What I Did on My Spring Vacation: Day 1
Whee! My very first ever thread crochet project! And it's a Snowflake Monday!
Coats and Clark #10 and a #7 steel hook while watching Kill Bill.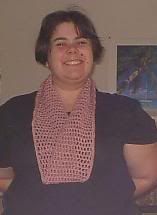 Mobius Scarf: Carom Simply Soft and a J hook while watching Spy Kids 3D and Once Upon a Time in Mexico.
Right now I'm tackling
the yarn barf of doom
in between checking various blogs, et cetera.