Spring Vacation part 2
Started a couple of things, but the only hooking project that got done was a cozy for my dearly beloved what once was lost iPod Shuffle.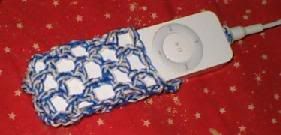 F hook and two strands of Coats and Clark #10 cotton (in blue and cream, natch).
Thereby proving that if it will hold still long enough, I will crochet a cozy for it.
Presently have the Mobius scarf wrapped around head & neck, as Spring seems to be on vacation and has gotten Winter to sub for it. Brrr.